The Comic BookLegal Defense Fund(another free speech T shirt)
from
Avedon(who now has comments!)
:
Comic Book Legal Defense Fund Takes Action in GA Case: Counsel for the Comic Book Legal Defense Fund have submitted four motions to dismiss the charges against retailer Gordon Lee, owner of Legends in Rome, GA. Last February, the Fund initiated Lee's defense against charges resulting from accidentally distributing Alternative Comics #2, a Free Comic Book Day book from 2004, to a minor. The anthology includes the story "The Salon" by Nick Bertozzi, which contains a segment depicting Picasso in the nude. The Fund has already spent in excess of $20,000 defending this case.
let me add that you can also get
a really charming T-shirt directly from the CBLDF, at this link
, which helps them out.
CBLDF t shirt with Fancy Froglin by Kochalka: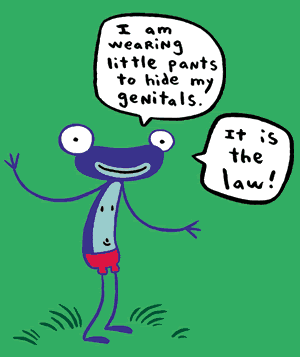 courtesy cbldf.safeshopper.com
if you do an image search for "fancy froglin" you'll find some more charming(and yes, mirthful) stuff,
some of which my image host might frown upon
, alas.
The CBLDF also recently succeeded in rescuing "Ritchie Bush"
from an overzealous US customs agency which decided to confiscate the comic satire painting George W. Bush as a spoilt little rich kid a la you-know-who this past fall, ostensibly on the grounds that it constituted copyright infringement.