Christmas News from an old war:
Saturday, December 25, 2004 Posted: 1:17 AM EST (0617 GMT)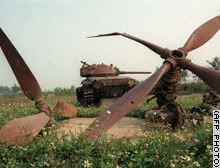 HANOI, Vietnam (Reuters) -- Four children aged between nine and 14 and a 20-year old man were killed in southern Vietnam when a war-time mortar shell they were playing with exploded, state media reported on Saturday.

The five were killed instantly on Tuesday in a field where they were tending a herd of cows in the southern province of Binh Thuan, the Thanh Nien (Young People) newspaper reported.

Since the U.S.-led Vietnam War ended, nearly 40,000 Vietnamese have been killed by leftover ordnance.
A twenty-year old is just a kid too, at least by my reckoning. In 1994 Clinton pledged to enter the US into the land mine treaty ban, but when it was convened in '97, the official US position was that we would enter the treaty in 2006, after our military had time to develop an alternative to land mines. Since then the Bush administration has abandoned the promise of entering into the treaty in 2006, or any future date(big surprise.).